Football Manager 2012 Tactics & Training
adalah sebuah postingan dibuat bagi para penggemar FM 12, memang sudah banyak sekali taktik dan skenario dirancang namun apakah masih kalah sampai saat ini. Memang bahasan dibawah ini tidak sebagus apa yang dikatakan, namun tidak salahnya kalau saya ingin membagi sedikit pengalaman dan cerita dibalik kesuksesan tim saya bersama Barcelona.
Kalau begitu langsung saja silahkan simak dibawah ini
FM 2012 Tactics & Training
dari
blogger indonesia
.
Formasi
Formasi yang saya pilih adalah tidak benar-benar identik dengan kehidupan nyata Barcelona, perbedaan utama adalah bahwa saya tidak menggunakan gelandang bertahan seperti Guardiola yang dilakukan dan bahwa striker luas memiliki posisi yang lebih sentral dalam taktik saya. Anda dapat melihat peran dan mentalitas untuk setiap pemain di layar shot di bawah jadi saya kira masuk ke rincian tidak diperlukan. Yah, mungkin hanya cepat menuju: penyapu kiper, penuh punggung, bek tengah, 2 kotak untuk gelandang kotak, salah satu playmaker berbaring mendalam, 2 depan defensif dan satu trequartista.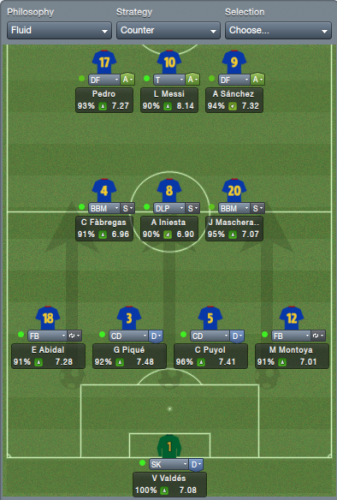 The Team Instructions
Seperti yang dapat Anda amati dari gambar di bawah tim memiliki filosofi air dan strategi mulai menyerang, memainkan perangkap offside bersama dengan garis pertahanan tinggi dan para pemain harus menggunakan passing pendek, tekan lawan mereka dan menggunakan imajinasi mereka Kedalaman pusat berbaring-gelandang dirancang sebagai playmaker tim.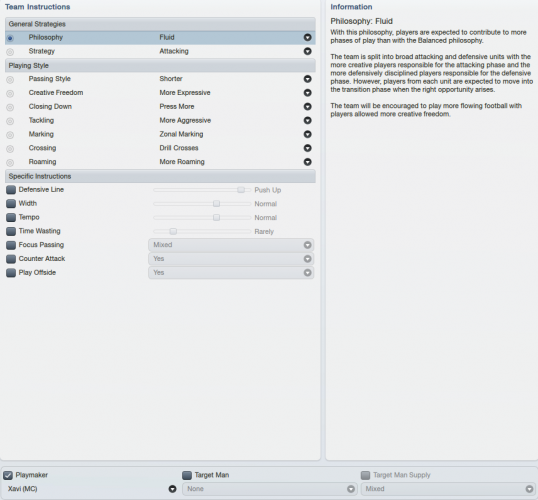 Tactical Analysis
Tampilan posisi rata-rata menunjukkan lebih banyak tentang gerakan pemain selama pertandingan, aspek yang paling penting bagi saya adalah bahwa tim tetap kompak baik dan mematikan bola.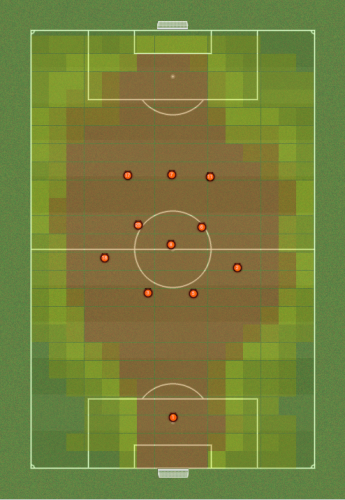 Dan itu mengajakku ke bentuk favorit saya di sepak bola: segitiga! Ketika saya menonton pertandingan saya selalu mencari segitiga dan itu karena jika tiga pemain Anda sedang membentuk sebuah segitiga dengan sisi berukuran cukup maka mereka akan memiliki tugas yang jauh lebih mudah dalam mengambil lawan melalui passing pendek.
Here are the
download links
:
-
Attacking Version
-
-
Counter Version
-
Football Manager 2012 Training Schedules Maestro Ugo's
Senior schedules
:
MU – GK: for keepers
MU – FB: for fullbacks
MU – WB: for wingbacks
MU – DC: for central defenders
MU – DM: for defensive midfielders and defence oriented MCs
MU – AM: for attacking midfielders and attack oriented MCs
MU – WG: for wingers
MU – ST(fast): for fast, poaching type strikers
MU – ST(strng): for strong, target man type strikers
Youth schedules
:
MU – Y (gk) – for young keepers
MU – Y (def) – for young defensively oriented players (DC, FB, DM)
MU – Y (wng) – for young wingers and wingbacks (AMRL, WB)
MU – Y (att) – for young attacking oriented players (ST, AMC)
Anda dapat menemukan informasi lebih lanjut dan download jadwal pelatihan oleh Maestro Ugo
klik disini
.
Setelah mendownload file yang Anda harus lakukan adalah menempatkan file itu dalam Documents > Sports Interactive > Football Manager 2012 > tactics folder dan kemudian kalian akan dapat menemukan mereka di layar permainan taktik di bawah "archived tactics".
Mungkin itu saja selamat menikmati taktik yang telah saya berikan dan silahkan mengajukan pertanyaan jika Anda memiliki atau memberikan komentar untuk meningkatkan
FM 2012 Tactics & Training
diatas.